WHY TO USE INSTA STORIES

?

HERE ARE SOME OF THE ADVANTAGES
Most annoying about INSTAGRAM STORIES: they have a completely different format from your usual Instagram posts..

So you may ask whether it's worth spending the time on reshaping your post images into vertically shaped images [1080 x 1920px to be precise] suitable for STORIES + HIGHLIGHTS?

Your stories last for 24hrs, however it's not only those who follow you who will see them, in-fact, they're discoverable so in the same way you might see accounts you're not used to in your stories feed, other users will see yours!

Once you have turned a STORY into a HIGHLIGHT, it will remain permanently
EXAMPLES OF RECENT INSTA STORIES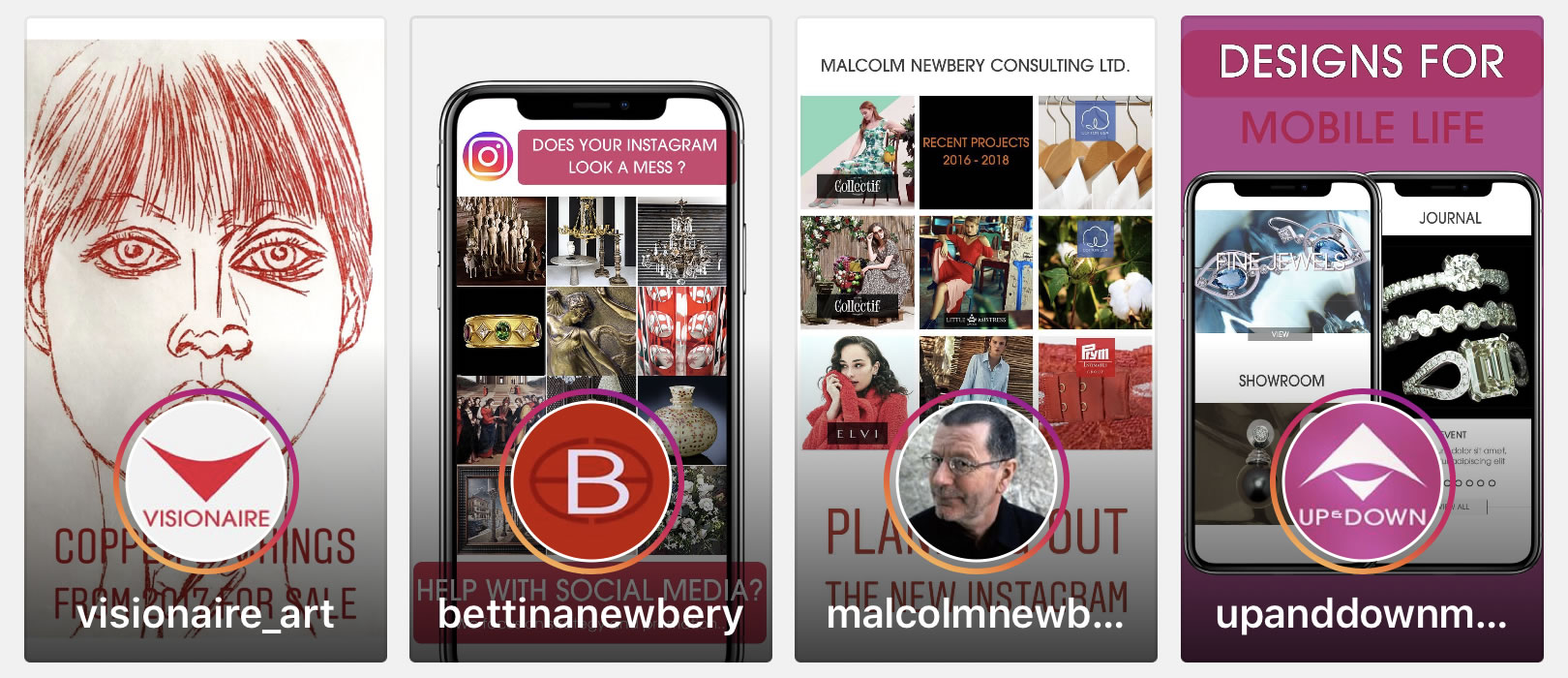 THE BASICS OF PRODUCING INSTAGRAM STORIES
Stories appear at the top of your feed, in a carousel of profile pictures from the people you follow [only in the Instagram mobile app]

To post a story, you simply tap on your profile picture in the Stories row of the home screen or from your profile page and it will activate the camera to shoot a photo or video or select one from your camera roll. Tap the "+ your story" button to add photos to your story. You can save stories to your device or send a story to individual users.

You can apply filters, text, stickers + icons to your stories and you get to see a full list of everyone who has viewed your story.

Whoever you tag in your story, will be notified that they've been added to your story; hashtags act as links in your stories which viewers can tap on.

SERVICES
This is what we do for you
+ identify + produce images suitable for stories
+ load new stories on a daily basis
+ tag customers
+ direct message new customers
+ analyse which stories receive feedback
+ select your best stories and post as permanent highlight
+ use hightlights to establish your brand


Social Media Strategy & Campaign Planning packages start from GBP 400; please call for our bespoke social media management prices tailored to your requirements.